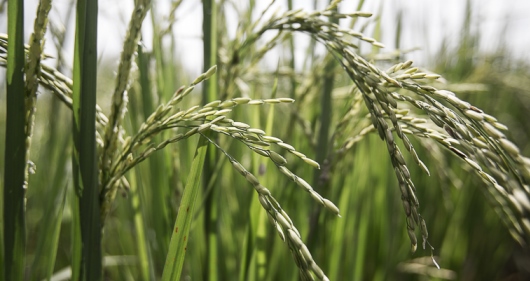 Green centres
The Dreyer foundation realizes a project for sustainable rice production on 500 hectares of previously unused lowlands
Rice plays an increasingly important role for the nutrition of the inhabitants and the farmer's economic situation in Dano. Since the year of 2003 the foundation has developed lowlands for paddy-rice production for smallholder farmers. Within the framework of the program "green centres for innovation in agriculture" of the Federal Ministry for Economic Cooperation and Development, the Dreyer foundation will implement a project for the development of a more productive and sustainable rice production on approximately 2.000 hectare of previously unused lowlands until the year of 2022.
A major component of the project is an innovative industrial plant which processes paddy-rice through the use of renewable energy (solar heat; gasification of rice crop residues) and a photovoltaic system for the generation of electricity. In the rice factory, rice will be dehusked and parboiled on-site. Thus, the product quality as well as the price level can be improved. The processing of 4.000 t of paddy-rice is seen as a medium-term goal.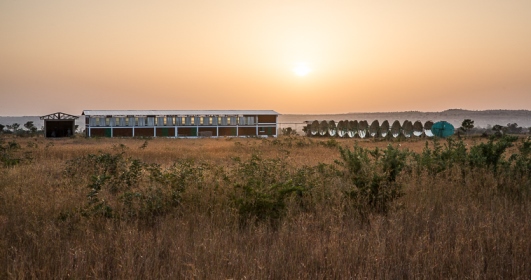 Approximately 4.400 smallholder farmers, organised in cooperatives benefit from this German initiative to promote rice production in Dano. The Goal of this rice cultivation project is to improve of food-security in the region and to improve the economic situation for in total 50.000 persons.
Until the end of 2022, the implementation takes place in the following three areas:
| | |
| --- | --- |
| | Implementation of irrigation systems in the lowlands through the removal of trees in the rice fields, the construction of irrigation- and drainage canals and the building of small dikes. |
| | Education and further training for farmers (Farmer Field Schools) to allow a successful harvest. |
| | Pre-financing of agricultural inputs: Fertilizers and seeds are granted on credit basis and have are paid back in cash through the corresponding amount of paddy-rice at the end of each harvesting period. These funds represent the working capital necessary to purchase the agricultural inputs for the following season. |
The sustainability of the whole project will be supported through organizing the farmers in cooperatives and giving them access to continuous training measures. By the end of 2022 the approximately 40 small cooperatives will be united under one central cooperative. This organizational entity will be responsible for the marketing of finished rice, the procurement of seeds and fertilisers for the smallholder farmers' cooperatives, increasingly the provision of agricultural machinery, as well as targeted custom-made training programmes for the farmers.